Integration Details
SimplyMerit is seamlessly integrated with the current version of ADP Workforce Now® providing secure integration and real-time data updates. With ADP Data Integration, you will be up and running with SimplyMerit in a matter of hours. Try doing that with spreadsheets! HR Administrators are able to automatically pull data from ADP into SimplyMerit on-demand. This automatic data pull eliminates the need to try to manage a "blackout period" where no organizational changes are allowed during the annual merit cycle.
ADP Applications Integrated
Integration Type
Read Data from ADP
Buy Now

Application Type
Data Sync Frequency
Data Fields
SimplyMerit pulls data fields from ADP Workforce Now relating to employee compensation information. There are no Personally Identifiable Information fields that are extracted.
Multi-currency
SimplyMerit supports 146 global currencies with roll-ups automatically converting to the company's base currency - allows for planning in local currency at the employee-level. HR administrators are provided free rein to define the exchange rates based on budgeted rates, current rates, or any other driving factor.
Salary Planning
Start your annual merit cycle with Salary Planning using SimplyMerit. Once complete, roll right into your annual Merit, Bonus, and Equity Allocation processes with a single click of a button.
Ease of Access to Key Compensation Data
Putting data into the hands of the managers to make Data-Driven Merit, Bonus, and Equity decisions with an easy to use interface.
Workflow
The simple and elegant interface provides for a natural and deliberate workflow for merit and bonus requests and approvals. Our thoughtful design guides managers through the process every step of the way virtually eliminating the need for training.
Visibility
Managers are provided an unprecedented level of understanding of the budget allocations within their span of control including the ability to view every data point within their organization.
Collaboration
HR and senior leadership can monitor, communicate, and collaborate with managers every step of the way with the powerful workflow and collaboration engine.
Guidance
Numerous guidelines and compensation recommendations established by HR in the configuration phase are readily available to managers throughout the application including recommended merit percent increase range based on performance rating.
Transparency
Requested compensation adjustments are visible all the way up the management hierarchy; approvals, adjustments, and rejections are always communicated to the impacted manager; and special exception requests remain visible throughout the application.
Configuration
Extensive configuration options allow HR to provide a customized experience for their managers as well as to provide guidance to managers directly within the application including recommended merit increase range based on performance rating. Our configuration engine supports stub year processing, automatic proration rules, and variable timing bonus plans at the individual instance level.
Governance and Security
Every updated is tracked in our application to ensure maximum auditability. And our platform maintains the following certifications / attestations: DoD SRG, FedRAMP, FIPS, ISO 9001, ISO 27001, ISO 27017, ISO 27018, PCI DSS Level 1, Glacier for SEC Rule 17a-4(f), SOC 1, SOC 2, and SOC 3. Additionally, our platform meets the following international standards: MLPS Level 3, MTCS Tier 3, UK Cyber Essentials, Plus, and IRAP.
Complete
Every step of the merit, bonus, and equity allocation and approval process, including generating and distributing adjustment letters, is included in SimplyMerit. It truly provides a complete experience from start to finish.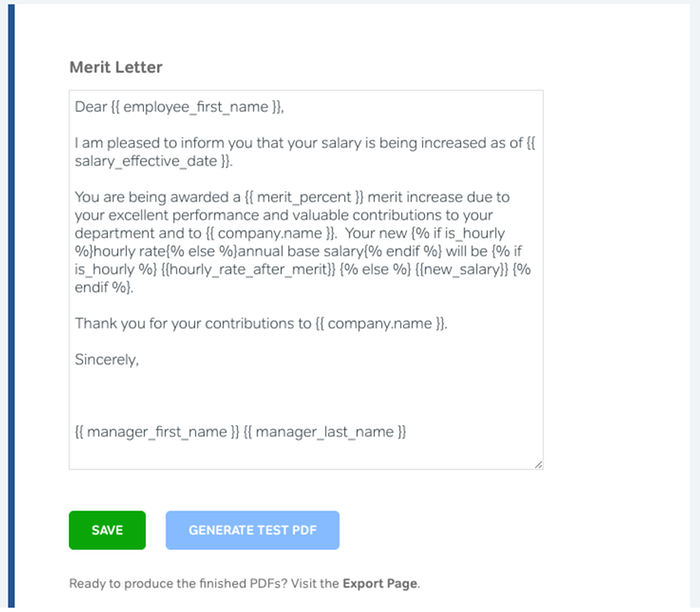 Reporting
MorganHR is unique in the industry as both a Compensation Consulting firm and a Compensation Software company. At the end of your merit and/or bonus cycle using SimplyMerit, MorganHR will run your compensation data through our analysis engine. The results will be analyzed by our consultants, and a multi-page "Board-ready" analytical report will be generated for you.
What types of analyses do we perform?
Compensation Insights: Biases and disparities, Gender-based pay differential, High Potential employees (HIPOs), Employees at-risk, Market pay analysis, Budget allocation analysis
Merit Cycle Outliers: Managers who "spread the peanut butter", Managers who have overspent or underspent their budget, Managers who are giving a promotion but not a merit increase, Managers who are giving a lump sum distribution even though employee is within market, Employees below market, Employees above market, Increases outside recommended range based on performance rating score, Employees not receiving an increase