Contents
Integration Details
The allGeo application integrates with ADP for bidirectional data exchange. This is a real-time integration that pushes the details from allGeo application and load data into ADP.
ADP Applications Integrated
ADP Workforce Now®
ADP Workforce Now® Essential Time

Integration Type
1. Bi-directional data exchange
2. Single Sign-On
3. Buy Now
Application Type
Data Connector & End User
Data Sync Frequency
Real-time
Scheduled – Once a day
Data Fields
The following fields will be sent from allGeo to ADP:
1. In time and Out time
2. Service Hour (Regular, OverTime & Double Overtime)
3. Mileage
The following fields will be read by allGeo:
1. Communication phone number
2. Worker Name
3. Locations
4. Payroll File Number
5. Payroll Group Code
6. Associate ID
7. Work schedule Start & End time.
8. Double OverTime & Mileage Earning code.
9. Organization ID
10. Work Assignment ID
GPS Tracking
GPS location, time and attendance app for any smartphone. Provides dependable employee GPS tracking using hybrid positioning (Wi-Fi, and GPS sensors) for indoors and outdoors support. Managers can view and manage crew via the app.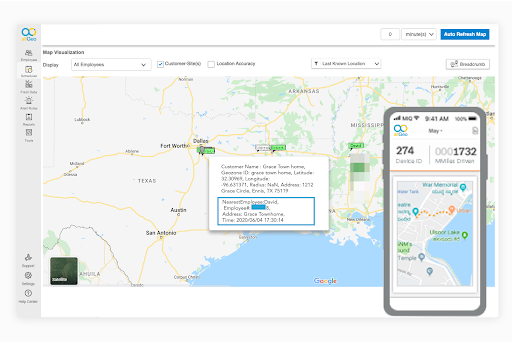 Time and Attendance
Automate employee clock in/out using Geofenced job sites, requiring no input from employees. allGeo's time-tracking module captures the hours worked by field employees during a day (or pay period) while the work order tracking module captures the exact time spent on various jobs during the day including in-out from job sites, use of equipment and specific tasks status. This automation can greatly reduce human-errors while providing operational efficiency and payroll productivity.
Mobile App
allGeo Time Tracker takes the headache out of tracking employee time by getting rid of excel spreadsheets and paper time cards. The most accurate time tracker in the market, the allGeo time and attendance app provides a suite of tools to assist field employees with their daily tasks - daily job dispatch, location tracking with mileage, time tracking with geofencing, group messaging, field data capture including pictures, mobile forms, signature capture, scans and reports. Reports include mileage, attendance logs, daily tasks records and compliance. Advanced features such as "zero-touch geofence time clock" ensures that no manual clocking in and out is needed. The job site geofence makes clocking in and out automatic with customized alerts and reminders sent to managers and employees. With the allGeo Time & Task tracker app, employees can do the following: - Receive details about their scheduled jobs. - Get automatic reminders to log time. - Clock in/clock out. - Enter hours worked. - On site supervisors can check-in employees (crew punching). - View status of time sheets. - Track mileage for reimbursement. - Transmit their location to headquarters. - Scan QR codes to capture jobs related information. - Collect pictures, signatures and other information via forms. The allGeo app also helps managers and supervisors by providing them information about all field employees in real-time. Now, there is no more downtime for the field employees waiting for new instructions to be written up manually in the event of a rescheduled service visit or no-shows. Supervisors can set up on-demand scheduling and assign tasks in real-time for optimal allocation and utilization of operations resources.
Scheduling
Calendar based scheduling system where workers schedules can be seen in one composite view and new scheduling assignments can be made. A dynamic jobs assignment process where workers are given their schedules in real-time, based on their location, workload and job details. Schedules will appear on each workers mobile app in real-time.
Labor Compliance
Handle complex scenarios such as multi-day / overnight shifts, shift-differential, break reminders, mileage logs for expensing and proof-of-attendance in order to stay compliant with State and Federal regulations.
Mileage Tracking
Automatically track your field staff's mileage using a zero-touch mobile app that also doubles up as a time-clocking tool. It is highly accurate with turn-by-turn breadcrumb visualization and detailed reporting including speed and stops. Managers can generate mileage reports for each employee based on shift times.
Job Costing
Track time & jobs accurately with Geofencing and QR codes, applying pay rates based on type of job or location. Also possible to apply different pay rates to the same jobs for job costing and payroll.
Enterprise Grade Security
We take Data Security and Privacy very seriously. From GDPR compliance to location data and user privacy, we have strict policies in place. All our services are delivered over a reliable and HIPAA grade AWS infrastructure
EVV (Electronic Visit Verification) Compliance
With the allGeo GPS-enabled Electronic Verification System, businesses can automatically track & verify caregiver visits against the patient's address, record services provided, and generate proof-of-service that can be submitted for claims reimbursement. allGeo is HIPAA compliant and supports mobile app and IVR (from client's landline) based attendance logging. The submission can be sent directly to the state or an EVV aggregator depending on your state's requirements. The workflow also includes scheduling, exception alerts and mileage calculations to help you further reduce your paperwork.