Contents
Travel Integration
Pre-fill DATABASICS Expense with travel transactions and minimize inaccuracy and entry effort. Our flexible options accommodate the major sources of transactions like booking tools, travel agencies, credit cards and p-cards.
Per Diem Management
The DATABASICS Expense per diem engine enables customers to manage the most complex per diem rules whether defined by statue or negotiated with unions or work councils.
Time Tracking Integration
Boost the power of Expense by integrating it with our Time sheet solution, DATABASICS Time. With our unifed Employee Reporting platform, users have a single look and feel for their two major administrative tasks. They also have a single set of codes to work with and none of the synchronization issues you find with cross-vendor systems.
Automated Accounting Integration
Link your accounting solutions directly to DATABASICS Expense. Our bi-directional integration means your data is always current and where it needs to be with no missing details. We integrate with all major ERP, HRIS, payroll, and CRM systems.
Reporting and Analytics
Use standard reports to provide immediate access to key expense reporting information, or explore any dimension or combination of dimensions with our easy DIY reporting capability. Graphic or tabular presentation—the choice is yours.
OCR Receipt Scanning
Our optical character recognition reads receipt images (even hotel folios), making it possible to build reports with minimal manual effort and aggravation.
Project and Cost Allocation Tracking
Maintain control over project, grant or activity-related employee expenses.imple and intuitive.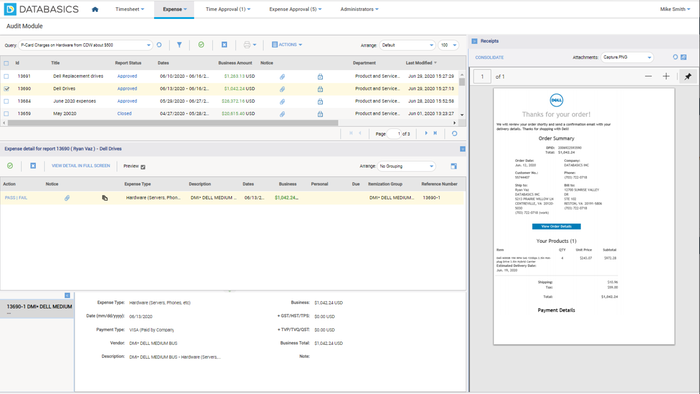 P-Card Management
P-Cards are great way to streamline the purchasing process. Still, new processes require new controls. To put in place an effective, auditable control environment for P-Cards is a challenge. The card issuer may provide software, but for many organizations this software doesn't go far enough. DATABASICS P-Card Management empowers organization to take advantage of the efficiencies of P-Cards while maintaining full oversight.
Project Tracking
Control projects, and their resources, of any size – from the simplest to the most complex. Because the depth of work varies from project to project, so does the drill-down ability of DATABASICS Expense.