Contents
Integration Details
• Onboard by HR Cloud integrates with RUN Powered by ADP® to automate and improve the new hire onboarding experience.
• HR Admins can seamlessly pull ADP data with a single click import process that starts immediately or by setting a recurring import to pull new data every day 12 AM PST.
• Workforce data, such as company hierarchy and employee location, is populated in Onboard, ready to use.
• Does not currently support the integration of W4 form (Federal taxes) or any state/local tax forms.
ADP Applications Integrated
Integration Type
1. Bi-directional data exchange

Application Type
1. Data Connector & End User
Data Sync Frequency
Data Fields
The following fields will be sent to Onboard by HR Cloud from ADP
1. First Name
2. Middle Name
3. Last Name
4. Emails
5. Phone Numbers
6. Address
7. Company Hierarchy
8. SSN
9. Primary Work Assignment
10. Worker Status
11. Payroll information

The following fields will be sent to ADP from Onboard by HR Cloud
1. First Name
2. Last Name
3. Personal Email
4. Work Phone Number
5. Address
6. Birthday
7. SSN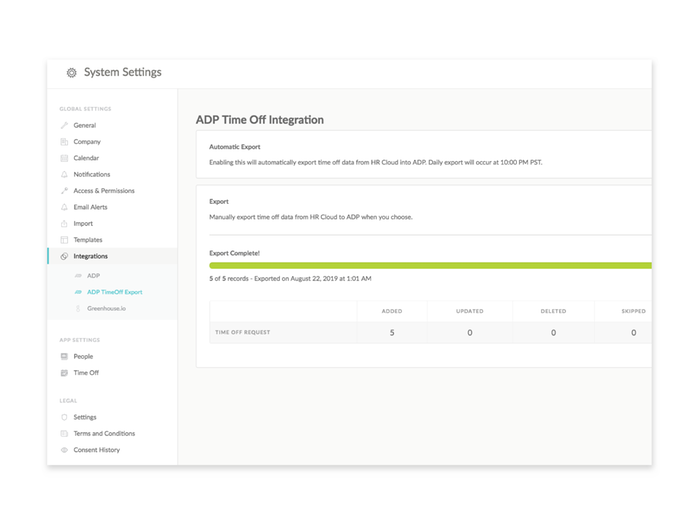 Customizable New Hire Portals
• Create personalized employee portals and landing pages to give new hires all the information they need to hit the ground running.
• Customize the entire experience by adding your corporate logo, colors, and other branding elements.

Create Customizable Forms and Fillable PDFs
• Use our powerful Form Builder to quickly create virtually any type of form, including dynamic online forms or fillable PDFs.
• Create custom forms using existing data fields, or use our form library to get started faster.
• Gain all the tools you need to design intuitive, fillable forms that can be accessed and completed on any device.
• Help new hires save time while ensuring you get the information you need, when you need it.

Take Advantage of E-Signature Capabilities
• New hires can electronically sign any document, saving time, improving compliance, and enhancing the employee experience.
• Easy-fill forms, direct deposit set-up, and e-sign-enabled processes make onboarding fast and easy.

I-9 and E-Verify
• New hires can electronically sign I-9s or any document from any device, saving time.
• Onboard helps ensure that forms are completely filled and deadlines are met.
• HR can submit employment verification requirements directly to agencies and create recurring tasks to keep up with licenses throughout the employee lifecycle.

New Hire Checklists
• Stop wondering where a new hire stands in your onboarding process or worrying that a critical step may have been missed.
• Create customized checklists to automate the entire process, including dynamic tasks, notifications, deadlines, and responsibilities.
• Your entire team can rest assured that the onboarding process will be completed on time and that nothing is missed.

Customizable Employee Directory
• Sort, search and export the desired data to create specific directories or click on a convenient, easy-to-view grid to search through targeted groups of employees.
• Navigate to individual employees and create additional card views.
• Access an intuitive org chart to find any employee, including contact information, department, org hierarchy, social media links, and more.

Mobile App
• Onboard includes a mobile app that enables new hires to access critical forms and documents before they even start working.
• New hires can access forms, documents, and checklists in their personalized portal using any device.

Recruitment Program
• Applicant Management - Find the perfect candidate more manageable with everything in one place from job posting, evaluating and tracking.
• Branded Job Boards - Leave a greater first impression to candidates.
• Pipeline Overviews- Keep track of every interaction and information.
• Custom Hiring Stages - Customize to your hiring process needs.
• Customized Offer Letter – Create custom letters for different openings or teams.
• Integrated Onboarding – Enroll your new hire from recruitment to onboarding with one click.
• Applicant Reporting - Automatically collect all candidates data.

Performance Feedback
• Evaluation Cycle - Set, track and manage performance reviews more than once a year.
• Reviews & Self-evaluation - Make the goals clear to the employee, conducting self-evaluations and updating them on their performance.
• Custom Questions – Get the answers to the questions you have with customizable employee questions.
• Employee Recognition & Rewards - Appreciate your employees and let them do peer-to-peer recognition.
• 360º Feedbacks - Automatically store every feedback, keeping everything organized and ready to report.
• Automatic Reports - Get instant insight without it being a burden to you.

Background Checks
• Onboard integrates with Checkr and other background check vendors and applications.
• Conduct faster, easier background checks, all in your HR Cloud system.

ATS Integrations
• Onboard integrates with leading applicant tracking systems such as Greenhouse, JazzHR, Lever and more.