Contents
Integration Details
Employee Navigator integrates with ADP Workforce Now® to exchange demographic, compensation, and deduction information between the two systems.
ADP Applications Integrated
ADP Workforce Now® (current version)
ADP TotalSource®
Application Type
1. Read data from ADP
2. Bi-directional data exchange
3. Buy Now
Integration Type
Data Sync Frequency
Real-Time & Scheduled* If a demographic change is made in ADP, Employee Navigator will be updated momentarily. Termination and rehires with future effective dates will update the following day. Deductions are sent from Employee Navigator to ADP Workforce Now in real-time.
Data Fields
The following fields will be exchanged bi-directionally:

1. First, Middle, and Last Name
2. DOB
3. Address Line 1, 2, 3
4. City, State, Zip
5. Country
6. Gender
7. Home Phone
The following fields will be sent from ADP to Employee Navigator only:

1. SSN
2. Payroll ID
3. Hire Date or Rehire Date (most recent hire date is exchanged)
4. Termination Date
5. Compensation (Annual Base salary, Hourly Rate, Compensation basis, Effective date).

The following fields will be sent from Employee Navigator to ADP only:

1. Deduction Amount
2. Deduction Code
3. Deduction Effective Date
Benefits Administration
Employee Navigator's benefits administration software makes it easier to attract and retain great talent by offering an extensive benefits package with less benefits administration work.
Easy to manage
Enroll, renew, & manage your employee benefits online
No tricks up our sleeve
Simple HR and employee self-service portals
Always open
Review benefits and plan details 24 hours a day, 7 days a week, 365 days a year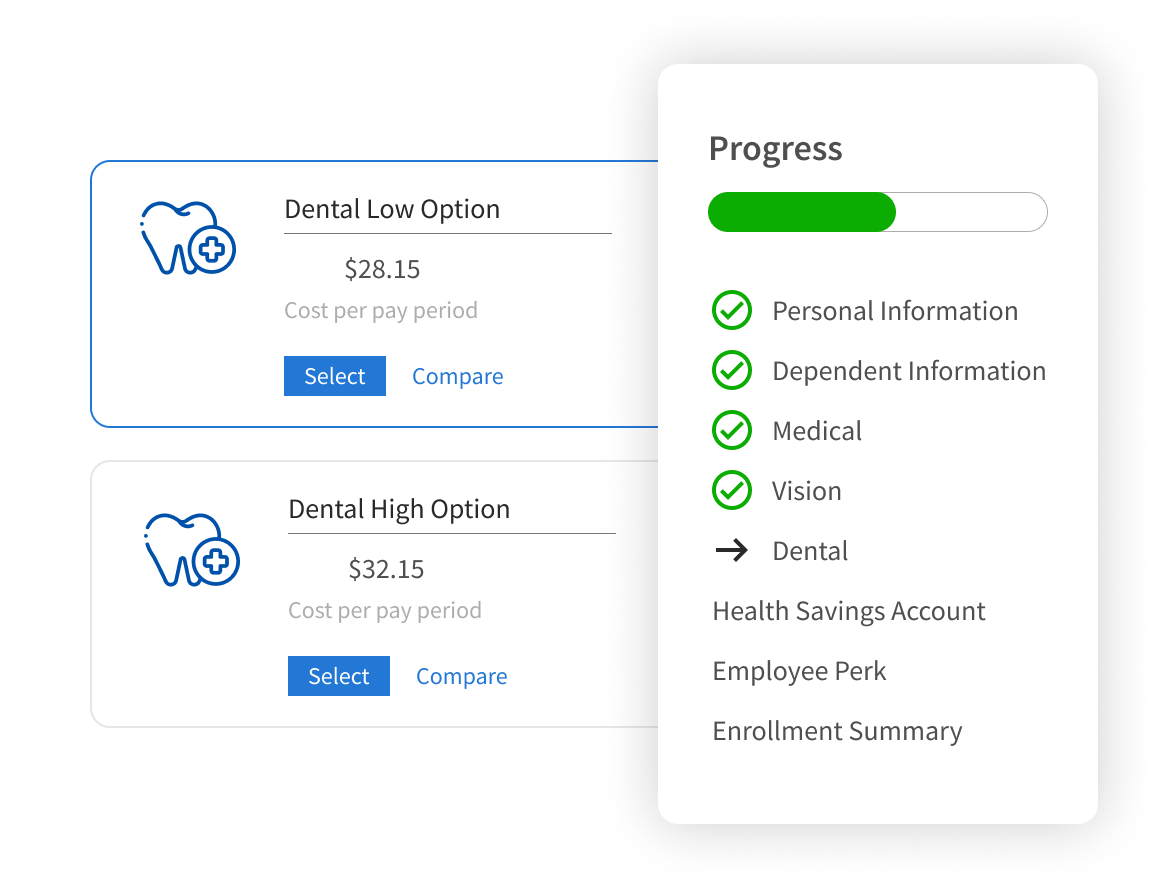 ACA Reporting
The Affordable Care Act can be confusing. That's why we've built a set of simple, yet powerful, tools to make ACA compliance easier for everyone. Pricing can be found here: https://employeenavigator.zendesk.com/hc/en-us/articles/360052102212-Pricing-and-Payment-for-Nelco-1094-1095-filing-2020-Reporting-Year
Eligibility Tracking for Hourly Employees
Set-up stability and administrative periods
Easily track hours during measurement periods
Quickly identify eligible employees
Simple import of hours
Tool for 1094/1095 Reporting
Track and categorize your employees
Import health plan enrollment data
Calculate affordability & monthly FTE
Generate and send 1094-C and 1095-C reports
Transparent Pricing
We charge a simple per-form fee to both generate and send 1094 and 1095 forms.
What Else Is Included?
Full pre-transmission audit
An interactive guide to help navigate the process step-by-step
ALE & Affordability calculators
Eligibility reports
Simple management for variable hour employees
HR Management
Employee Navigator centralizes your HR records online and syncs your employee data across multiple systems — including Payroll, Benefits, and Time Off.
Employee Self-Service
Employees can view and update their own information. They can request time off, make benefit elections, view company related documents, and even make life event changes.
Automatic Employee Updates
With Employee Navigator, changes to employee information, such as addresses, promotions, and terminations will automatically update across the Employee Navigator platform. Say goodbye to dual entry.
All Your Documents, Available On Demand
Store and distribute all of your company's documents in one place. From handbooks and agreements to benefits and compliance forms, you can store everything in one secure location
Online Employee Directory
Through our online employee directory, your entire team can easily stay connected with each other.
Onboarding
Employee Navigator's onboarding tool makes it easy for HR to get new hires up and running without endless amounts of paperwork.
Superior Task Management
Customizable for every business
Intuitive self-service tool
Comprehensive audit trail
Simple to set-up and manage
Safety and Training Modernized
Modernize training, improve worksite safety & reduce workers comp costs.
Paperless Benefit Elections
Don't stop with onboarding, benefit tasks can also be seamlessly managed online.
Easily Customize & Complete New Hire Forms
We made completing new hire forms painless for employees & HR.
Compliance Simplified
There's no shortage of policies that employees need to sign off on; our digital file makes tracking them a walk in the park.
Integrated COBRA Administration
Employee Navigator is integrated with 100+ TPAs to make COBRA & cafeteria plan administration easier for companies of all sizes. Learn why 10,000+ companies rely on these integrations every day.
COBRA Specs:
COBRA automation for groups of all sizes, not just the big guys
Automate direct communication with participants and sending all COBRA notices
Eliminate error-prone manual processes
Enjoy automatic data transmission to TPAs
One system for entry of new hires and terminations
National network of integrated TPAs
Why Integrate?
Automatically update employee deductions, eliminate dual-entry and improve data accuracy. Help your agency maintain control over benefits administration, alleviate costs, provide accurate census for quoting and reduce retroactive enrollments & claims.