Contents
Integration Details
JazzHR integrates with ADP Workforce Now® to provide a seamless connection between systems. Easily transfer of new hire information to ADP Workforce Now, eliminating manual data entry errors.
Applications Integrated
Integration Type
1. Write data to ADP Workforce Now
2. Single Sign-On
3. Buy Now
Application Type
1. End User & Data Connector
Data Sync Frequency
The following fields will be sent from JazzHR to ADP Workforce Now:
1. First name
2. Last name
3. Email
4. Phone
5. City
6. State
7. Country
8. Zip Code
9. Hired Date
Candidate Texting
Leverage real-time conversations with candidates to keep your company top-of-mind and ahead of the competition.

Create a better candidate experience and hire top talent faster when you incorporate text messaging into your hiring process. Text applicants, coordinate interviews, automate communication throughout your hiring workflow and accelerate time to hire. 

Text candidates without leaving JazzHR and take the conversation on-the-go to engage candidates with personalized outreach whenever, wherever. Learn more at https://apps.adp.com/en-US/apps/243431
Improve engagement with candidates
Create a better candidate experience and hire top talent faster when you incorporate text messaging into your hiring process.

• Text applicants. Coordinate interviews. Automate candidate communication throughout your hiring workflow
• Text candidates without leaving JazzHR and take the conversation on the go to engage candidates with personalized outreach whenever, wherever
• Improve engagement with mobile-centric candidates and accelerate time to hire

Did You Know?
The average person checks their phone more than 150 times a day, and 91 percent of people say that they always have their phone within arm's reach.

Text messaging is becoming an incredibly useful tool for recruiting. What at first glance might seem as a very informal method of communication can actually pay dividends at all stages of the recruitment process. That's because these days we're all connected to our phones.
Customizable Job Applications
Quickly screen candidates with simple, customizable applications that don't scare candidates away.
Post to Free Job Boards
Publish your job to major free job boards with just a few clicks. Centralize your posting right in JazzHR.
Purchase Premium Job Advertisements
Promote your job to targeted or wider audiences by purchasing premium postings from our marketplace of over a dozen paid listings.
Mobile Friendly Job Board
Every JazzHR account comes a built-in mobile friendly job board that is completely customizable.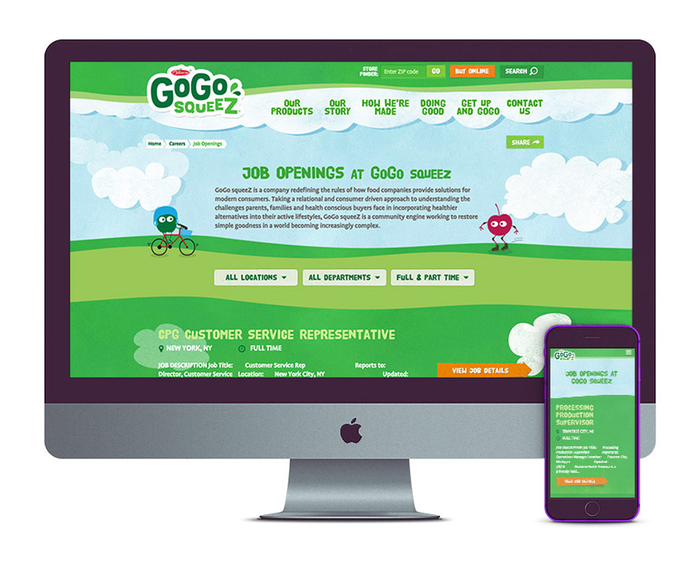 New Candidate Email Alerts
Automatic notifications whenever you get a new candidate to make sure no one slips through the cracks.
Mobile Resume Screener
Quickscreen lets you screen and vote on candidates wherever you are, right form your phone.
Resume Uploader and Parser
Upload and parse resumes automatically to create actionable candidate profiles.
Searchable Resume Database
Create a candidate database as you hire. Advanced search and filtering let you find hidden gems right in your own candidate pool.
Referral Management
Automatically request, track, and generate referral candidates through our advanced referrals tools.
Job-Specific Recruiting Teams
Create hiring teams with restricted visibility to just their jobs to protect candidates and employees.
Custom Job Workflow Stages
Create your own, custom workflow templates to reflect your unique hiring process.
Email Message Templates
Build oft-used communications into scalable email templates to protect your employer brand.
Email Sync
Send and receive messages from candidates to your JazzHR and work inbox.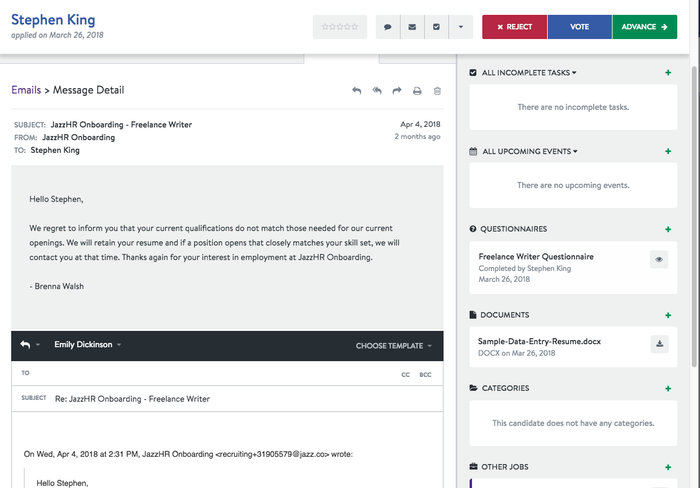 Roles and Privileges Management
Give just the right amount of access and control with our 6+ different user types.
LinkedIn Recruiter System Connect
Use your LinkedIn Recruiter Corporate account to connect with JazzHR and view candidate profiles in JazzHR, export LinkedIn profiles to JazzHR, and share notes across systems.
Bulk Action Candidates
Make multiple actions across groups of candidates based on your filters.
Contacts Manager
Manage all your business or client contacts in our built-in address book.
Job Approval Workflows
Build out a multi-step approval process before you can open a job to closely manage your job postings.
Auto-Send Emails
Create auto-reply messages as candidates move through each stage in the hiring process.
Knockout Questions
Autoscreen candidates based on your preconfigured criteria.
Recruiting Calendar
Manage all your recruiting activities with our built-in recruiting calendar.
GMail and Microsoft Exchange Calendar Sync
Connect your work calendars with JazzHR to see availability across systems.
Interview Templates
Guide interviewers through each question in the interview with customizable interview templates.
Candidate Evaluation Templates
Score and rank candidates based on your own set of criteria with evaluations.
Document Storage and Organization
Upload and manage important candidate documentation.
eTemplate Management
Create and manage eTemplates to send often-used candidate documentation.
Enhanced Security Privileges
Lock down who has access to key documents like offer letters.
Tokened Offer Templates
Fill in predetermined fields to easily generate error-free offer templates.
Candidate Reports
Run reports on candidate information from source to hire.
Job Reports
Get detailed analytics on how well your postings are performing.
Compliance Reports
Only available on Pro, keep EEOC compliance with detailed reports.
Custom Reports Builder
Only available on Pro, build your own custom reports. Export or manage your data in JazzHR.
Workflow Reports
Only available on Pro, get detailed information on how candidates move through your workflow.
Candidate Self Scheduling
From phone screens to in-person interviews, scheduling with candidates is an important but time-consuming task. Now, you can eliminate the back and forth and speed up the hiring process by allowing candidates to self-schedule interviews right from JazzHR!
Technology Integrations
JazzHR integrates with other HR technologies.
Background Checks
Choose from a variety of background check providers to send and receive background check requests right from JazzHR.
Assessments
Connect video interviewing and skills test providers to see your results right in JazzHR.
Diversity & Inclusion
eSignature
Send and receive eSigned documents through our embedded integration with HelloSign. No additional accounts to manage.
Candidate Sourcing
Tax Credits & WOTC
Video Interviewing
Talent Management