Integration Details
• Workmates for ADP Workforce Now integrates with ADP® to offer employee engagement and collaboration services (see feature list for details).
• HR Admins can seamlessly pull ADP workforce data with a single click manual import that kicks off immediately or by setting a recurring import that will pull new data every day at 12 AM PST.
• Workforce data, such as company hierarchy and employee location, is populated in Workmates, ready to use.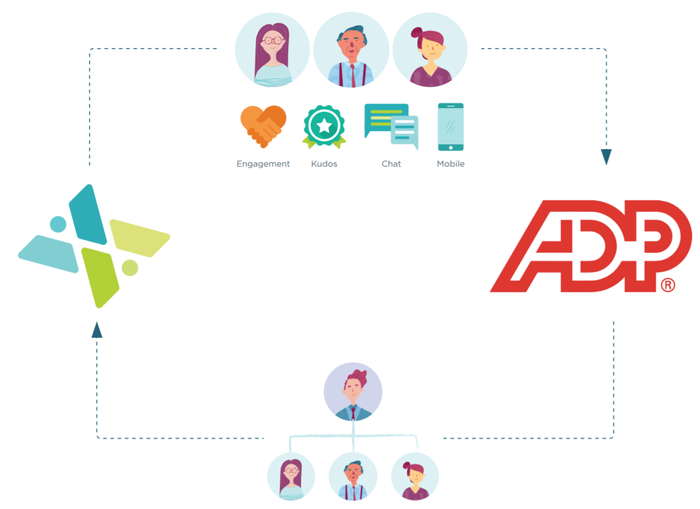 Social Intranet
• Far from a static webpage intranet model, Workmates is a modern, social intranet that really works. By offering many of the same social features employees use on their social media sites, Workmates promotes real-time communication and more meaningful interactions to generate better business results. • Unite Geographically Dispersed Teams: Workmates and the HR Cloud employee mobile app do more than just store your company's information. Instead, they help connect remote employees, field-based teams, and satellite offices, critical to enhancing employee morale, productivity, and overall engagement.
Company Announcements
• Keep your team in the loop with Workmates company announcements.
• Share company communications as a comment, attached document, or presentation.
• Get your employees up to speed in a fun and interactive way.
• Move information out of everyone's email inboxes and become prominently placed on Workmates.
• Share Company Announcements and Pinnable Posts with document share. Use Workmates as a company Intranet. • Workmates' personalized newsfeed communicates everything that's happening at your company, including announcements, events, new hire information, employee spotlights, and so much more. With these internal communication best practices, collaboration occurs naturally.
Channels
Reconsider old ways of thinking about teamwork and discover how a community approach to collaboration can produce powerful business results. With HR Cloud, users can create valuable group channels to align teams, simplify communications, and focus their efforts on a common goal.
Content Management System (CMS)
• A Modern, Social CMS: HR Cloud's Workmates is a modern, social intranet that operates as a content management system (CMS). This comprehensive, central repository of information promotes a community approach to managing, accessing, and sharing important content. • Fast, Easy Content Ownership—without Help from IT: With Workmates, any user can create portals, pages, and content, all of which can be distributed based on an employee's role, location, department, org chart hierarchy, or any combination of assignment criteria. Even better, pages can be easily created and maintained by non-technical staff (any employee, not just IT) using an intuitive drag-and-drop interface. • A Better Document Repository: Enjoy all the benefits of a centralized file repository. Users can upload documents, giving your organization a better way to store and manage vital documents and information. Then, these documents can be accessed in newsfeeds, personalized portals, web pages, newsletters, and other areas within Workmates. • Customize Pages, Folders, and More: Share entire documents and folders with individuals, or even the whole global staff. With Workmates, customizing and adding branded pages and uploading any type of content is fast and easy. Plus, our intuitive rich text editor lets any user create and edit content. We even provide content widgets to give even more options to manage documents, videos, links, pictures, and more. • Powerful Search Helps Users Find Critical Content: Plus, a powerful search function helps users find documents, people, events, updates, and other information—across the entire platform. Discover how engagement, adoption, and information sharing all increase just by helping employees consistently find the right content.
Kudos & Rewards
• Workmates' kudos feature lets any employee reward a peer for any contribution or achievement. Prominent kudos leaderboards contribute to a culture of increased productivity, engagement, and effort. It's an important advantage: Companies with higher levels of employee engagement are proven to have higher growth rates, productivity, and financial success. • Highlight Exemplary Behavior to Transform Your Culture: Give visibility to all employees' contributions. With Workmates, rewards and recognition becomes easy and fun and encourages collaboration with any employee—no matter where they happen to work. Highlighting employees' exemplary behavior becomes fun and encourages constant, incremental positive feedback so employees can steer themselves towards success. • Customize the Entire Experience: Employees can give a digital high five or shout to other employees with customizable badges and then reward them with gift cards, corporate items, or other ways of saying thanks. Badges can be customized to reflect specific your company's values and promote that specific behavior. You can even gamify goals and create a positive buzz around employee performance. • Turn "Thanks" into Real Rewards: If you enable Rewards with kudos for Workmates, budgets and spending limits can be allocated by location, role, department, or manager. Employees can exchange their earned kudos reward points for a wide variety of gift cards to pre-approved vendors such as Amazon and many other online retailers. Employees can also give some of their own points to co-workers.
Comments and Reactions
• Build your company culture with the ability to post comments in the Workmates feed.
• Add emojis to comments with reactions that bring conversations to life.
Customizable Employee Directory
• Workmates is your connection hub that can list all workers in one directory.
• Sort search and export the desired data from the system to create specific directories.
• Navigate to the selected people and create additional card views.
• Find and connect with anyone on any channel.
• Click on a convenient, easy-to-view grid that you can filter, sort and search based on a targeted, selected group of employees.
• Conduct a column-based search so you can look for a specific position or do a global search.
• Create new filters.
• Make your view your default view so that I can see it yourself or share it with others. • Select the list of employees and export the data in a CSV, PDF or Excel document.
• Use phone, chat, group chat, text, email, Skype, Facebook, LinkedIn and/or Twitter.
Org Chart
• Find out who reports to different managers.
• Use this feature with click of a button.
• See your company structure as a whole or drill down to an individual team. • View the org chart in-app or easily print as a PDF.
• Your Org Chart updates in real time—concurrently—as changes to ADP workforce data are made.
1-on-1 or Group Communication
• Create your profile and share it.
• Check out your team members' profiles, too.
• Take a look at posts, photos, about, contact info, team connections, and even start a conversation right from Workmates! • Knock down any barrier to your internal communication strategy. Workmates makes it easy for any employee to connect with a peer to share vital information—no matter if they're in the office, in the field, or working remotely. Any employee can make a phone call or send a text message, or they can start one-on-one or group chats in the platform or other communication channel of their choice, including Skype, Slack, Google Hangouts, and many more.
Powerful Analytics
HR Cloud's powerful reporting and analytics tools give you real-time insight into the metrics that matter most so you can adjust content strategies to produce meaningful results.
Mobile App
• A Mobile Employee App that Works for HR…: For busy HR teams, "work as usual" doesn't always take place in the office, and (unfortunately), it doesn't always stop at 5:00 p.m. HR Cloud's mobile employee app now helps HR find top candidates, create onboarding task lists, respond to employees' leave requests, offer an official kudos for a job well done, and so much more. HR teams benefit from 24x7 access to the information they need to get the job done. • With HR Cloud's best employee app, your employees will never again wonder how they can get in touch when they're not in the office. Now they can access your company directory to find a co-worker's number or any contact information for any employee in your company. If they have questions that need immediate attention, they can make a phone call, send a text message, or start a group chat, all in the app itself. • Improve Employee Communications and Engagement: Our mobile employee app connects remote, far-flung teams or even field-based workers without access to a laptop. With the best employee communications app and the best employee engagement app, we help give any employee the information they need, when they need it, to increase morale and overall productivity.
Leave Status
• Easily check leave status to see who's out-of-office
• Indicate your status so your team knows if you're in-office, out on business, out on vacation, working remote, etc.
Office and Google apps integration
• Use other popular apps with Workmates to sign-in.
• Invite team members.
• Integrate features to instantly boost teamwork and grow your company's culture.
• Integrated apps can include: Google, Microsoft Office 365, Yammer and Slack.
• Integrated with Google Calendar and Office 365 to pull new hire start dates, task due dates, birthdays, anniversaries and time-off from Onboard.