Contents
Integration Details
orginio enables automated organizational charting and workforce modeling based on data from ADP® application. orginio can conveniently be launched directly through the ADP user interface including single sign-on. The seamless integration allows for information to be pulled directly from ADP Workforce Now and loaded into an org chart. This ensures that the visualization is always up to date.
ADP Applications Integrated
1. ADP Workforce Now®
2. ADP TotalSource®
Integration Type
1. Read data from ADP
2. Single Sign-On
3. Buy Now
4. ADP App

Application Type
1. Data Connector
2. End User
3. Data Connector & End User

Data Sync Frequency
Triggered by user, on demand
Data Fields
The following fields will be sent by Partner App to ADP
None.
The following fields will be read by Partner App
1. Associate OID
2. Worker ID
3. Legal Name
4. Preferred Name
Business Communication
5. Email
6. Landlines
7. Mobile
8. Gender
9. Photos
Work Assignments
10. Position ID
11. Reports To
12. Job Code
13. Home Organizational Units
14. Assigned Organizational Units
15. Assigned Work Locations
16. Job title

Easy org charting
Are you tired of having to spend hours on manual updates of your org chart in PowerPoint or Visio? Make this a problem of the past with orginio! It is an intuitive and easy-to-use cloud-based org chart tool which is fun to work with. Thanks to the integration with ADP Workforce Now, information on employees, positions, and departments and who reports to whom will be imported automatically to orginio. A preview of the data helps you check if information was uploaded correctly. This way organizational structures can be visualized within minutes and are easily kept up to date. orginio also allows for the synchronization of profile pictures from ADP Workforce Now into the organizational chart. If necessary, additional data can be uploaded via CSV file.
Workforce modeling and reorganizations
orginio lets you model potential new structures without the need to modify data in ADP Workforce Now. Create, remove, or edit departments, individual employees, or positions and perform structural changes easily via drag-and-drop. Included key metrics which are affected by the modifications made are updated automatically in the process allowing for an immediate evaluation of the consequences of the planned changes. The original org chart is not affected by modeling activities. However, reorganizations can be done in the same user-friendly manner directly in the main org chart, if desired.
Individual (box) design
orginio comes with a standard framework and smart designs for the visualization of your organizational structure. However, you can also make your org chart truly your own. The option to create custom color schemes and integrate your company logo allows you to comply with corporate design guidelines. Moreover, the box designer in orginio enables you to individually determine the content of the org chart boxes. Any kind of data uploaded to orginio can be chosen and used to build the boxes. It is possible to define both the information shown in the detail view for each employee and the attributes displayed in the compact view of your org chart.
Explore your company
orginio lets you choose how many levels of your organization are to be displayed at once. The arrow below each box navigates to the next level of the structure. Searching for any stored information is also as simple as can be: Type in any search term in the search bar and all hits will appear immediately. By clicking on the desired search hit, orginio automatically navigates to the respective box in the org chart.
Display rules
Define individual display rules to highlight objects that meet certain criteria. They can be blanked out, take on a pre-defined color, or receive an additional icon. This makes it a lot easier to quickly recognize information that is important to you. Display rules can be used for various kinds of scenarios. One example could be to highlight departments with more than 10 employees. The interactive legend provided in orginio appears next to the org chart and lets you maintain a clear overview of all your defined display rules. Additionally, it allows for the easy activation and deactivation of the different rules.
Visualization of key metrics in your org chart
Important key metrics can be displayed right along the organizational structure making your org chart more of a strategic tool. Be it headcount, number of positions, or span of control, to name a few – orginio helps you maintain a clear overview. The possibility to determine default KPIs makes sure that you always have an eye on the most important figures. These can be changed – also only momentarily – with only a few clicks.
Access control for employees or user groups
The access control functionality lets you control which information is visible to whom and which users are authorized to make changes in edit mode.
Talent Management and Succession Planning
Workforce planning is the main topic in many companies. Why not display your employees' talents directly within the organizational chart? This way, everyone can see what the colleague from next door is capable of. By visualizing key roles, organizations ensure that employees are recruited and educated to fill each key role within the company. Potential successors for a key position can be highlighted via dotted line in the organizational chart.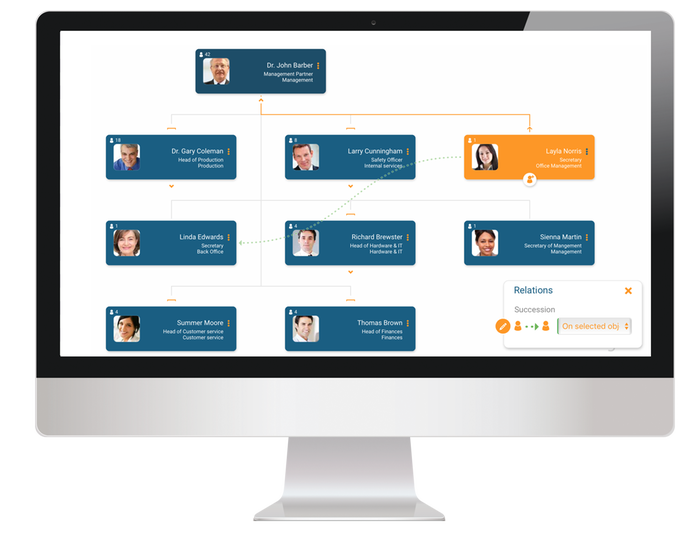 Share and print information
Employees can retrieve the updated org chart via the Internet using the interactive viewing mode. Show your current structure via a share link or share your live org chart via iframe embedded code in the intranet for use as an internal corporate directory. Easily print your desired org chart view to PDF for presentations or email.
Data Security
All of the data you have imported into orginio is securely stored in the ISO 27001 certified Amazon web services (AWS) data center. Key compliances controls and objectives are demonstrated by AWS SOC 2 Security and Availability Report which is an objective and independent third-party report. The AWS data center meets the requirements of the most security-sensitive organizations all over the world.