Contents
Track Job Punches and Production Data
Simple screens to track direct and indirect time on jobs and tasks, plus production data by employee, department, job center, and machine. riteTIME® also allows you to start and stop multiple jobs at the same time.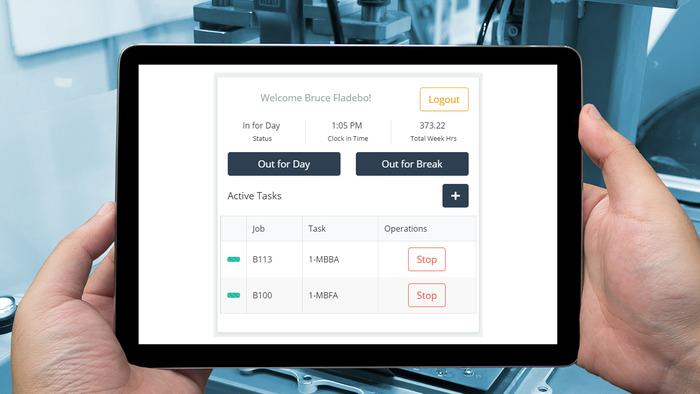 Easily update job standards
Share this data with your ERP to update your job standards and job costing
Approve Time Cards Fast
Automated time cards make it easy for you to review, edit, and approve time cards fast.
Gain WIP Visibility and Monitor Performance with Supervisor Dashboards
Monitor your jobs and employee performance.
Information at a glance. Smarter decisions.
With supervisor dashboards and reports you can see what's happening without walking the shop floor.
Gain instant WIP visibility and monitor performance in real time to see where the issues are before they become big problems.
Standard Reports and Piece Rates
riteTIME® lets you analyze it all with standard and custom reports. And, it helps provide the data you need to support your piece rate pay programs. Gain accurate insight to productivity.
Information at your fingertips!
Seamlessly Integrates with ADP
riteTIME® seamlessly shares data with ADP via a turnkey riteTIME® Data Connector for ADP Workforce Now Essential Time and Enhanced Time available for an additional fee.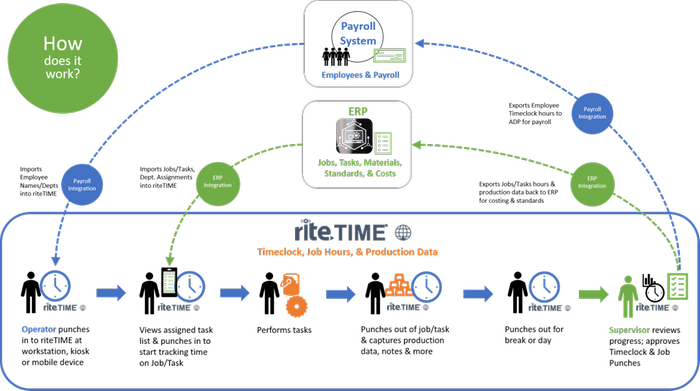 Turnkey Integration
Reduced duplicate data entry, fewer errors, and improved data integrity.
Data Fields Imported from ADP
Supervisor (Y/N)
Employee ID
Department Name
First Name
Last Name
Full Name
Employee Username
Data Fields Exported from riteTIME to ADP
Employee ID
Time Clock Punch In Time
Time Clock Punch Out Time
Break Punch Start
Break Punch Stop
Integrates With Your ERP
riteTIME can seamlessly integrate with your ERP to reduce errors and save time.
Fields that are imported from the ERP
Employee Name/ID
Department
Job Name/Description
Operation Name/Description
Operation Start & End Date/Time
Operation Expected Quantity
Operation Expected Time
Fields that are exported from riteTIME back to your ERP
Employee Name
Job Name
Operation Name
Total Time
Quantity Produced
Quantity Scrapped
Compare and Improve Performance
Compare employee performance and identify problem areas to improve efficiency and utilization rates.
Attachments and Notes
View job travelers, schematics, or instructions to help you work smarter. Employees can hand off and transition tasks with ease.
Help your team work smarter
Simple Time Clock
Capture time clock punches on-site or off-site, a #1 solution for your payroll system.
riteTIME Integrations
riteTIME has experience integrating with:
Acumatica (in development). Find us on the Acumatica Marketplace
Epicor
Infor Fourth Shift
JD Edwards
Microsoft Dynamics AX
Microsoft Dynamics GP
Microsoft Dynamics 365
Paylocity
Sage
SAP
SYSPRO