Contents
Integration Details
ClayHR integrates with RUN Powered by ADP® (RUN) to add new employees to ClayHR after they have been added to RUN.
ADP Applications Integrated
Data Fields
The following fields will be read by ClayHR:
1. First Name
2. Last Name
3. Email Address

Integration Type
1. Read data from ADP
2. Buy Now
Application Type
Data Sync Frequency
Comprehensive Employee Records
ClayHR allows you to go paperless with all your employee records organized in one place, plus ensure timely compliance and record privacy with fewer internal resources. Configure employee records to track information that is relevant for your organization with easy custom sections and custom fields (dropdown menus, checkboxes, dates, and more).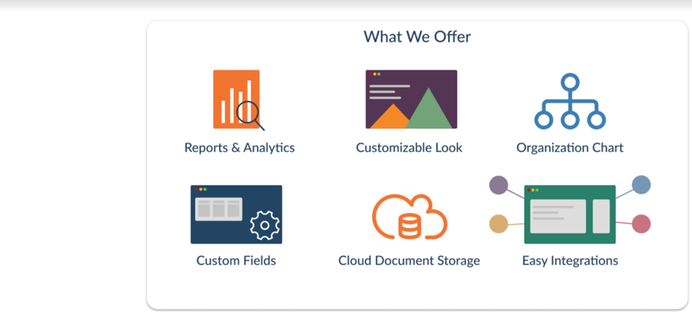 Timesheets & Attendance
Use the Clock In/Clock Out feature to record and keep track of the time you spend working on various jobs/projects. Use customized approval flows to ensure a timely and efficient approval process. Run fast and easy reports for approval of timesheets and overtime.
Performance Management
ClayHR provides multi-rater feedback, multilayered consolidation with signatures, manifold reviewers, integrated with goals & skills, and an insightful performance review dashboard. Back this up with meaningful check-ins, awards, continuous feedback (kudos and shoutouts) and walls of fame.
Training & Development
Empower your employees with knowledge and skills with a well-structured and flexible training platform. Store and stream unlimited amount of content in a single course or curriculum. ClayHR training can be done at any time any place. Employees can access the training remotely via iOS and Android applications, contributing to their continued growth.
Employee Onboarding
BizMerlinHR makes onboarding a seamless experience for everybody involved. Need new employees to complete a training or e-sign documents? Need to coordinate with different departments every time? Let your onboarding workflow do it all for you. Set up your custom onboarding process in just a few clicks. We understand your onboarding process can vary across departments and projects. With a range of features at your disposal, you can set up everything in a matter of minutes. Tailor BizMerlinHR's flexible custom workflows to your onboarding needs.
Hiring Automation and Applicant Tracking System
Approve and publish positions across a variety of job boards globally. Access candidates from all your different sources in one place and assess candidates the way that is relevant for you. Generate and sign offer letters electronically. ClayHR makes it easy to welcome your new hire to the company and give your candidates a great experience from minute one.
Workforce Planning & Resource Allocations
Ensure optimal utilization of your team. Make smarter and faster decisions with AI-driven insights. Plan effectively with workforce forecasting and see the real-time impacts of project updates.