Contents
Integration Details
Get your jobs from ADP to Recruitology in real-time and then distribute them to dozens of top job sites.

Recruitology also synchronizes with your worker directory automatically, to provide instant Single Sign-On access for your employees.
Applications Integrated
1. ADP Workforce Now® Recruitment
2. ADP TotalSource® Enhanced Talent Suite
Application Type
Integration Type
Read data from ADP
Single Sign-On (Practitioner, Recruiters, Hiring Managers, and Employees)
Buy Now
Data Sync Frequency
Data Read from ADP
The following fields will be read by ADP, in order to retrieve requisitions:

Requisition Id
Job Title
Job Description
Job Location
Apply-to Email
Apply-to URL
Job Posting Date
Job Expiration Date
Job Status
Work Type
The following fields will be read by Recruitology Connector for ADP Workforce Now®, in order to retrieve workers:

First & Last Name
Email
Phone Number
Address
Job Title
Employment Status
Programmatic Job Distribution
When you post a job with Recruitology's MaxRecruit, we distribute it to top job sites like ZipRecruiter, Glassdoor, Indeed and many more. Then we manage your posting programmatically so that you get the best results.
Diverse Hiring
A diverse workforce contributes to better business performance. Post your jobs to our DEI package to reach a range of qualified candidates, including veterans, individuals with disAbilities, LGBTQ and persons of color. Plus your job may be distributed to the state unemployment board, depending on which state you are in.
Veterans Network
Tap into seasoned, disciplined candidates while supporting this important community. Your job will be posted to iHireVeterans.com, HireAPatriot.com and other sites.
Diversity Network
You'll showcase your commitment to diversity while reaching candidates on sites such as DiversityWorking.com, LatPro.com, and LGBTJobSite.com.
Compliance Network
Your job will get visibility through disABLEDpersons.com, as well as the Helen Keller National Center and the American Federation for the Blind, and Job Opportunities for Disabled Veterans (JOBDAV.com). Plus, depending on where you are located, your job may be distributed to the state unemployment board.
DEI.Careers Job Site
Your job will reach thousands of college students and recent graduates at members of Historically Black Colleges and Universities (HBCUs) and Hispanic Association of Colleges and Universities (HACUs) as well as other minority-serving institutions.
Matched Candidates
In addition to getting applicants to your jobs, you can view and unlock candidates that are matched to your jobs. These matched candidates will appear under your jobs a day or two after you post, and are automatically matched from a network of 300M individuals with public profiles and resumes.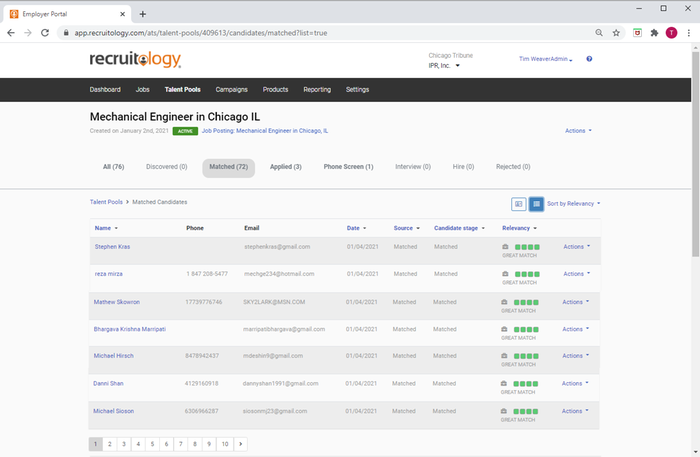 Access our extensive candidate databases
With Matched Candidates, you'll be able to unlock information on possible candidates from our extensive resume and profile databases, helping you connect with people who aren't necessarily looking for their next opportunity. This is ideal for recruiters who want to proactively reach out to candidates.
Select from two levels of Matched Candidates
You can choose to unlock either the top 25 or top 100 candidates, depending on your needs. Hiring several individuals for a role? You may want to select the option where you receive up to 100 quality candidates. If you're hiring one person for the role, up to 25 quality candidates may work perfectly for you.
Post to Niche Job Boards
We make it easy to post to niche job sites, such as college sites and sites that focus on audiences like nurses, accountants, commercial drivers, construction workers, etc.
Targeted Audience networks
Our Targeted Audience job site networks reach job seekers in their affinity groups and are a great resource for diverse candidates. Affinity groups range from diversity sites like LatPro to AfterCollege, for college grads with five or fewer years of experience, and more. The Social Network distributes your job to the social sites job seekers check frequently: Twitter, Facebook and LinkedIn.
Industry networks
Our industry networks reach a wide range of vertical markets and professional fields, such as Healthcare, Law Enforcement, Sales & Marketing, Manufacturing & Trade.
Facebook ad posting
We'll automatically convert your jobs to Facebook ads to amplify your employer brand message to a wide range of candidates. Facebook's Special Ad Audience technology finds relevant members within a 50 mile radius of your job and and targets your jobs to them in the form of Facebook ads.
Self-Service Purchase for Post Distribution
Buy job distribution on your own via self-service from a set of popular packages. Simply select a package, add any desired upgrades, and pay with a credit card. Not ready to post? You can start your job posting and save a draft for later. The Recruitology integration for ADP® is free to implement. Once you create an account on Recruitology, you can select the best job distribution package to purchase by logging into Recruitology and viewing package options right on your Recruitology dashboard. This integration is available for clients using ADP Workforce Now® Recruitment or ADP TotalSource® Enhanced Talent Suite.
Showcase your jobs on your company website
Select one of our popular packages, or build your own
We've designed three packages that meet many employers' needs. You also have the option of building your own job distribution package. Choose from a comprehensive range of job advertising and candidate search products, and tailor the package to your specific open position.
Single Sign-On with ADP
Easily and quickly access the Recruitology Job Distribution Platform once you've logged into ADP.
Real-Time Access to Open Job Requisitions
Automatically post your jobs from ADP Workforce Now to Recruitology in real-time, then distribute them to dozens of top job sites, like Indeed, ZipRecruiter, CareerBuilder, Craigslist, Facebook, Twitter, LinkedIn and others. Retrieve your open requisitions from ADP Workforce Now to start the job posting process.
AutoFill Job Posting Details
The information contained in your open job requisition is retrieved from ADP Workforce Now Recruitment and included in your Recruitology job posting. All of your job data is seamlessly sent from ADP to Recruitology, including job title, job description, and other relevant fields.