Contents
Integration with ADP
Compt integrates with ADP Workforce Now® and ADP TotalSource® to share employee data between solutions. After you subscribe to Compt, we'll instruct you on next steps to purchase the data connector to integrate your data. Learn more about the data connector here.
Customized Employee Perks
Compt has streamlined the entire stipend process by making stipend creation simple. Build a stipend (or several) that best suits your budget, culture, and teams' needs by browsing our comprehensive list of spending categories (e.g., health & wellness, professional development, remote work equipment) and grouping together the ones that apply to the stipend you want to create.
Vendorless Perks Management
Our industry-leading vendorless platform empowers your people to select whatever they need, from whatever source they prefer — from online stores to small local businesses, you can make it possible. Employees really do love it: on average, 90% of employees are active on Compt!
Employee Rewards and Recognition
Instead of giving your team gift cards which are limiting or cash which is impersonal, tie your bonus programs to a perk stipend so employees can get what they want when they want it. With Compt, you can delight your people with bonuses for birthdays, work anniversaries, or sales incentives in just a few seconds, making your recognition more meaningful and personalized to the individual. To help you continue building a strong culture of employee recognition, you can now easily.design and launch peer-to-peer and manager-to-employee bonus stipend programs!
IRS Compliance
Compt is founded by a former CFO of the year who understands the importance of getting tax compliance right. Our categories are segmented by taxability based on IRS classifications (taxable vs. nontaxable) so your employees and your company always stays on the right side of compliance.
Global Currencies
Compt is a perfect tool for distributed teams with locations around the globe. Our software is able to show international stipends in local currencies with local timezones. We currently have customers with employees in over 60 countries worldwide.
Expense Management
Consolidate your HR tech stack with Compt's expense management feature. Employees can upload receipts and get reimbursed for business expenses at a fraction of the price of dedicated expense management apps.
Reporting Dashboard
In addition to our robust filtering functionality for on-demand reports, we provide several essential reports front-and-center on your admin dashboard including: - Team engagement rates - Stipend engagement rates - Number of perks submitted within 30-days - Stipend program overviews for easy reference
Roles and Privileges Management
Give just the right amount of access and control with our 6+ different user types.
Desktop & Mobile Experiences
Both experiences are streamlined for users to easily access their balance information, submit perks, and view prior spending details.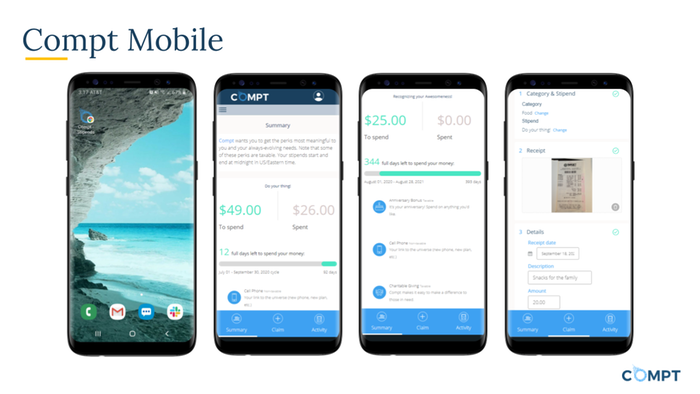 Slack Integration
Our integration makes it easy for your people to have their Compt information at their fingertips. It's a better experience for them and fewer questions for you.
Through our Slack integration, HR can:
Notify team members of a new stipend or bonus
Share recognition for a job well done
Celebrate a reimbursement
Your people can use the Slack integration to:
Check their balance
Submit new perk reimbursement claims
Share their newest perk with others in the #HowICompt channel.