Contents
Integration Details
See descriptions for Plastiq for RUN Powered by ADP®
ADP Application Integrated
Integration Type
SSO (Single Sign-On) with your RUN Powered by ADP® credentials
Application Type
Data Connector & End User
Data Sync Frequency
Data Fields
The following fields will be sent from Plastiq to ADP:
1. First Name
2. Last Name
3. Email
4. Payroll Data
SSO (Single Sign-On)
Gain access to Plastiq with your ADP credentials and never worry about adding another account to your list to keep track of.
Secure Funding
With Plastiq, have peace of mind knowing your funds will be sent securely through wire transfer into your ADP account once your credit card is processed.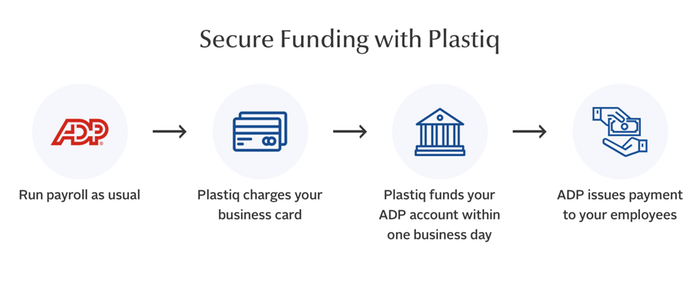 Wire Transfer Disbursement
After your credit card is processed for each payroll run, funds are disbursed via wire transfer into your ADP bank account within one business day. See below for required fields to enable Plastiq for RUN Powered by ADP®:
- Wire transfer routing number (This number can be obtained by contacting your bank. )
- Bank account number (the same account currently registered with ADP for payroll)
- Beneficiary name on account
- Beneficiary address

Please note if your bank charges an incoming domestic wire fee, this amount will be deducted from the deposit amount. We recommend checking with your bank to confirm.

Process payroll as usual within ADP by 4:00pm Eastern Time at least one business day prior to your pay date to guarantee a successful ADP debit from your bank account.
Bank Level Security
Plastiq is certified to the highest level, Payment Card Industry Data Security Standard (PCI-DSS) Level 1. Data that Plastiq collects is stored with one of the most secure methods and standard level of encryption for banks, AES 256-bit encryption.
Option for Partial Amounts
Plastiq gives you the ability to run a partial amount of payroll you'd like charged to your credit card with the remaining balance covered by cash, as usual. You can adjust the the amount you want charged to your credit card with each payroll run as you'd like. When enabling the integration, just enter the maximum amount of your ADP payroll you would like Plastiq to charge to your credit card each payroll run.
Quick Enablement
Enable Plastiq for RUN Powered by ADP® in three quick steps and start funding your payroll by credit card today.