Integration Details
• Onboard for ADP Workforce Now integrates with ADP to offer new hires onboarding services (see feature list for details).
• HR Admins can seamlessly pull ADP workforce data with a single click and a manual import that kicks off immediately or by setting a recurring import that will pull new data every day at 12 AM PST.
• Workforce data, such as company hierarchy and employee location, is populated in Onboard, ready to use.
• Additionally, employee and direct deposit information that is added in HR Cloud is sent back to ADP so your data stays in sync across both platforms.
ADP Applications Integrated
Integration Type
1. Read data from ADP
2. Bi-directional data exchange
3. Single Sign-On
4. Buy Now

Application Type
1. Data Connector & End User
Data Sync Frequency
1. Scheduled - Manual and Daily Recurring Imports
Data Fields
The following fields will be sent to Partner App from ADP
1. First Name
2. Middle Name
3. Last Name
4. Emails
5. Phone Numbers
6. Address
7. Company Hierarchy
8. SSN
9. Primary Work Assignment
10. Worker Status
11. Payroll information
12. Company
13. Business Unit
14. Benefits Eligibility Class
The following fields will be sent to ADP from Partner App
1. First Name
2. Last Name
3. Personal Email
4. Work Phone Number
5. Address
6. Birthday
7. SSN

Track I9 and W4 Forms Online
• Keep track of I9 and W4 forms online--complete with valid signatures.
• Make the onboarding process digital can decrease or eliminate the need for hard-copy forms.
• New hires can complete the onboarding checklist before their start date.
• New hires can spend more time learning about your business, less time trudging through time-consuming forms.
Upload Rich Content
• Create rich content such as videos, images and documents.
• Help your new hires become quickly knowledgeable about your company goals.
Customizable Forms and Fillable PDFs
• Create forms from scratch with drag-and-drop fields.
• Make uploaded PDFs fillable.
• Propel custom forms to new levels of efficiency.
• Decrease time spent printing, delivering, collecting and filing paper forms.
• Spend more time empowering new hires to attain immediate productivity.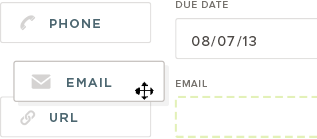 Sign Online Forms with Digital Signatures
• Employees can use their mouse to sign any online form.*
• Onboard HR software makes completing the new hire checklist simple.
• Now your organization can have a new level of authentication and security with individual access accounts and secured credentials.
Configurable New Hire Portal & Branded Hub
• Greet your new hires with an engaging, eye-catching and branded portal that helps them transition to the company.
• Configure your new hire portal with interactive social collaboration, questions and answers, documents, trainings and videos.
• Communicate your organization's mission and values and relevant training information to new hires while they are going through the onboarding process.
• Save time by managing task reminders and following up with employees in-app.
E-Verify Automation and Tracking
• Eliminate the E-Verify busywork of manually entering employee information in two systems.
• Staying on top of employment eligibility is just a couple of clicks away from completion with I9 information automatically synced to your E-Verify account and case outcomes neatly tracked and listed in Onboard.
Smart Automation
• Customize your checklists, then let Onboard's task automation take care of the rest.
• No need to remind new hires about deliverables.
• Onboard takes care of following up so you can focus on the work that matters to you most.
Org Chart
• Onboard's Org Chart visualizes your company so new hires grasp the shape of your organization quickly and easily.
• Now it's easy for new hire to distinguish who their new colleagues with visual assistance.
• This visual knowledge empowers your newest employees to meet, reach out to, and follow up with their coworkers from day one—to day one hundred.
Other 3rd Party Integrations
• Onboard's list of 3rd party integrations already includes Greenhouse for ATS, Checkr for background checks and E-Verify for employment eligibility.
• Our list of integrations is growing constantly to transform the ease and efficiency of HR users by bringing more work onto one platform.
• Integrated with Google Calendar and Office 365 to pull new hire start dates, task due dates, birthdays, anniversaries and time-off from Onboard.
Mobile Compatibility
• iOS and Android compatibility.
• Works with smart phones, tablets and PCs.
Safety and Security Systems
• Data privacy standards include: SOC-2, Privacy Shield, GDPR.
Background Checks
• Automatically and paperlessly determine eligibility within your onboarding packets.
• No need to manage a separate process or worry about compliance issues.
Other Apps By HR Cloud Inc