Contents
Integration Details
MakeShift integrates with ADP Workforce Now by syncing employee information and time off. Easily import and keep employee information synced with ADP in MakeShift. Fields that are synced from ADP include: Name, Email, Phone Number, Employment Type and Base Wage. Additionally, time off can be synced from ADP into MakeShift to prevent administrators from scheduling staff when they are unavailable.
ADP Applications Integrated
ADP Workforce Now® (current version)
ADP TotalSource®
Integration Type
1. Read data from ADP
2. Single Sign-On
Application Type
Data Connector & End User
Data Sync Frequency
Worker and Time Off syncs are performed on a scheduled basis daily and can also be manually synced.
Data Fields
The following data is synced to MakeShift from ADP:
• Employee Name
• Email
• Phone Number
• Employment Type
• Base Hourly Wage
• Approved Time Off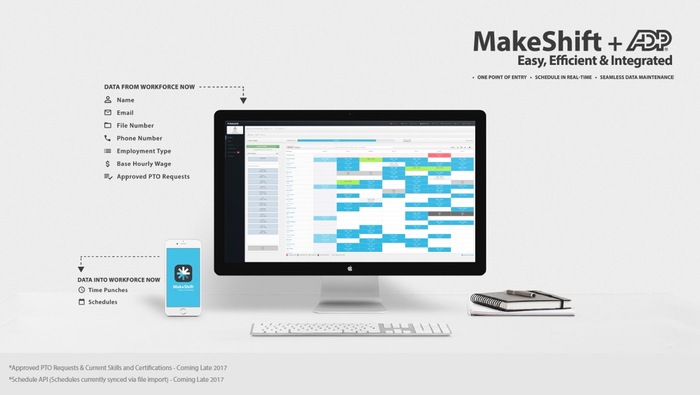 Employee Scheduling
Create and manage employee schedules using accurate information, including projected or demand-based labour budgeting, employee availability, optimized schedule templates, and more. Our online employee scheduling software ensures you always have the right people, in the right place, at the right time.
Intuitive Design
MakeShift's drag-and-drop interface makes scheduling downright easy. Use shift templates or create custom shifts, "Copy and Paste" schedules, track your labour budget and more with a few simple clicks.
Collaborative Scheduling
Empower employees to easily set and communicate their availability right from their smartphone or the web app. Use employee input to build more effective schedules that enhance job satisfaction and reduce absenteeism.
Requirement Scheduling
Create optimized schedules based on the number of staff and specific positions and/or job sites you need at any given time. Easily identify gaps in your schedule and see who is available to work.
Manage Labor Budgets
MakeShift tracks and updates your projected labor costs in real-time - as you schedule shifts, see your projected labor costs update instantly, so you always know if you are within budget. Budgets can be set either weekly or daily, or you can budget based on demand.
Fill Shifts Faster
Creating a schedule and keeping it filled is tedious and time-consuming. With MakeShift's Available Shifts feature, managers can fill shifts in no time.
Available Shifts
Available shifts can be created by the scheduler from either the web or mobile app. Once you've entered the necessary information—date, start time, notes, etc.—you can notify either all or select employees about the shift. The employees can then request it right from their smartphone. All requests for the shift are collected and can be assigned to an employee(s) by the manager. The schedule is immediately updated and employees are notified of whether they were assigned the new shift or not.
Real-Time Updates
MakeShift updates scheduled shifts, availability, and other information in real-time, ensuring managers and employees are all working with the same, up-to-date information. Users can also set custom notifications, so that they'll be alerted as soon as anything changes. Additionally, work schedules can be quickly synced with Apple, Google, Outlook, and other calendars.
Easy Shift Swapping
Employees can post their shifts for eligible co-workers to pick up or can exchange shifts with each other right from their mobile devices. Administrators ultimately have the final say in which exchanges are approved, but the changes are initiated by the employees with the click of a button.
Instant Workforce Communication
With our built-in Announcements feature, you can communicate schedule information to all, some, or individual employees, who will instantly be notified when a new message arrives.
MakeShift Live
MakeShift Live is a mobile app designed for managers on the go. The iOS and Android app allow schedulers to manage approvals and their schedule right from their tablet or mobile device. The app frees managers from their desks, letting them manage their staff on the move, while keeping them up-to-speed on who's working, who's available, who's late, and who's off.
Time and Attendance
Accurately track employee time by allowing them to clock in and out from their phones on the MakeShift app or an on-site device. MakeShift uses geofencing to ensure employees are on-site when clocking in and out for their shift and breaks. Manage employee timesheets based on clock in and out entries, and quickly approve and export to payroll. MakeShift supports the ability to transfer time pairs to ADP Essential Time, and payroll data export to Excel.